Pumpkin Spice Latte – Protein Coffee
$34.99
Flavor: Pumpkin Spice Latte
What could be better than the smooth delicious flavor of our Pumpkin Spice Whey Protein Isolate? How about adding a shot of real espresso?!
That's exactly what we did with our MariGOLD Pumpkin Spice Latte!
Truly Grass-Fed™ Whey Isolate for pure protein your body craves.
Zero Whey Concentrate – NO BLOATING.
Green Banana Powder – resistant starch for improved insulin response.
Turmeric – for all its amazing anti-inflammatory properties!
Organic Coffee for a flavonoid and caffeine boost.
ZERO ADDED SUGARS or artificial sweeteners.
No ADDED Caffeine. Caffeine occurs naturally in the Organic Coffee.
Just add ice and your favorite cold liquid, blend, and indulge in a perfectly delicious and healthy Pumpkin Spice kick!
Availability: In stock
This item is Best Seller in following categories:
Someone from San Francisco & 2 others
bought this item recently.
Customize your Protein Coffee Experience
with MariGold Purista Blends!
With our MariGold Purista Blends "BUZZ METER" chart, you can customize your protein coffee experience…the "buzz" is up to you! Combine your desired amount of Iced Vanilla Latte Protein Coffee with 6-10 oz of cold water or your choice of milk for the perfect start to your day!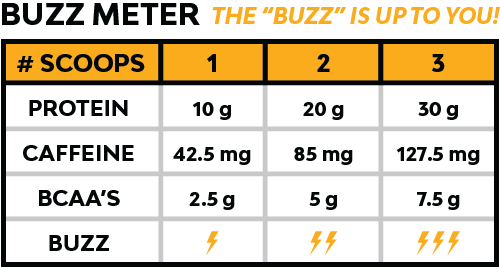 Enjoy delicious,
healthy

coffee your

OWN

unique way!
(REAL CUSTOMER CREATIONS)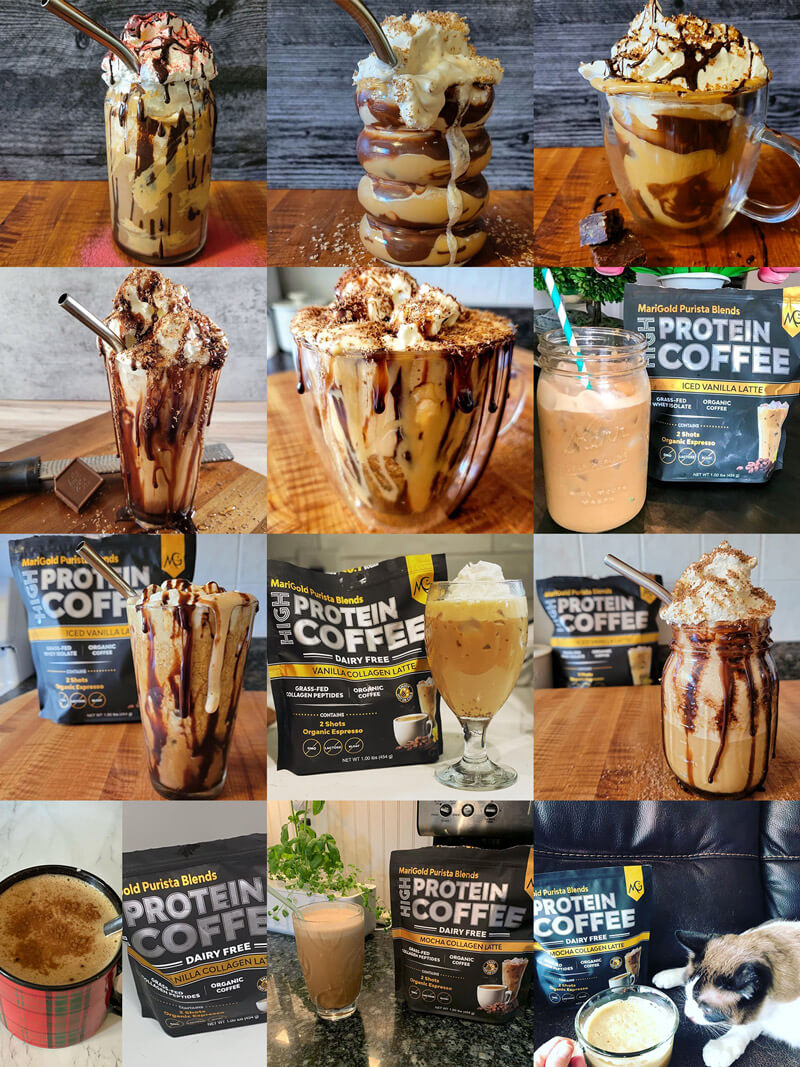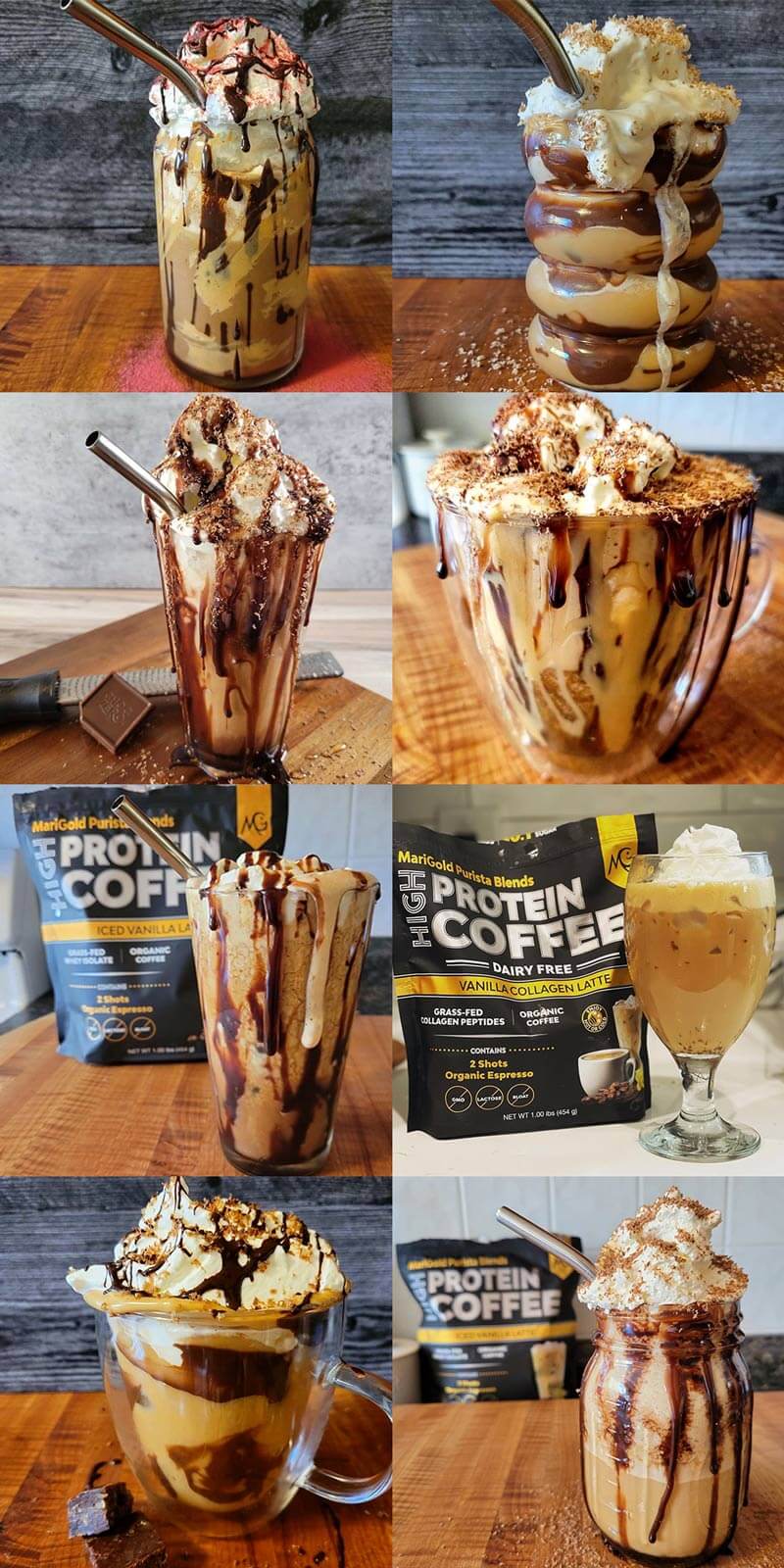 Pumpkin Spice Latte Protein Coffee
What's Inside
(Macros are based on a 2 scoop serving size – see our "BUZZ METER" chart for a customized coffee experience!)
SERVING SIZE: 2 Scoops (30g)
SERVINGS PER CONTAINER: 15
AMOUNT PER SERVING:
Calories 101; Total Fat 0.21 g; Saturated Fat 0.07g; Trans Fat <0.02 g; Polyunsaturated Fat 0.08 g; Monounsaturated Fat 0.05 g; Cholesterol < 2.3 mg; Sodium 73 mg; Total Carb 4 g; Dietary Fiber 3 g; Sugars <0.2 g; Protein 20 g; Calcium 101 mg; Potassium 219 mg; Magnesium 31 mg; Phosphorus 64 mg; Iron 0.11 mg; Caffeine 85 mg
INGREDIENTS: Whey isolate from TRULY Grass Fed™ cows milk; Organic Coffee; Organic Vanilla Flavor; Organic Green Banana Flour; Organic Ginger; Organic Cinnamon; Stevia; Organic Turmeric; Organic Nutmeg; Real Salt®; Sunflower Lecithin; Organic Cloves
NO ADDED CAFFEINE. Caffeine is naturally occurring in the Organic Coffee
Allergen: MILK
Ovo Lacto vegetarian status
Kosher and Halal compliant
Store in a cool dry place away from direct sunlight. Packaged by weight not volume, settling may occur. 
** Manufactured in a facility that processes peanuts, tree nuts, and milk. **
*These statements have not been evaluated by the Food and Drug Administration. This product is not intended to diagnose, treat, cure, or prevent any disease.
MariGold Protein Coffee
Pumpkin Spice Latte
Reviews