Mint Chocolate Chip | Fat Bombs
$11.99
"Delicious! I had one a day and they are gone! It's a good thing you don't make your bags larger. Yummy, thank you!"
— Anne M.
Scouting for a Keto Chocolate Mint?
Bright mint mixed with allulose sweetened dark chocolate chips, and dark chocolate liquor makes for a fat bomb treat of your dreams. Can you say "Thin Mint"?
Includes coffee cherry flour – a naturally rich source of potassium and magnesium – two minerals often missing when following a keto lifestyle.
This item is Best Seller in following categories:
Someone from Kilauea & 13 others
bought this item recently.
** NOTE: Our products are
made fresh
, and cannot be returned and resold. If you would like to sample our products to ensure you like the taste and texture, please start with a
3 Bar Sampler
or
Ultimate Fat Bomb Sampler
. **
** Mint Chocolate Chip Fat Bombs are also Lectin Free, Low FODMAP, and Prebiotic Fiber Free **
Mint Chocolate Chip Keto Fat Bombs : What's Inside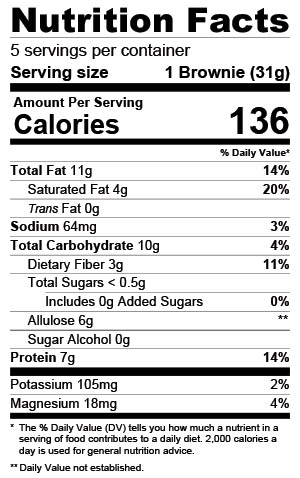 Blanched Almonds; Dark Chocolate Chips (Chocolate Liquor, Non-GMO Allulose, Cocoa Butter); Non-GMO Allulose; Grass-fed Collagen; *Cocoa Butter; *Chocolate Liquor; Coffee Cherry Flour; *Peppermint Extract; *Chocolate Extract; Real Salt®; Stevia…and Love ♥
*ORGANIC INGREDIENT
Real Salt® is a registered trademark of Redmond, Inc
May Contain Nut Shell Fragments
** Manufactured in a facility that processes peanuts, tree nuts, and milk. **
NOW with the natural sweetener, Allulose (non-GMO).  Allulose has been
clinically shown
to significantly decrease body mass index (BMI) and total abdominal (belly) fat in overweight or obese individuals***.
Learn more about Allulose
.
MariGold Fat Bombs are shelf stable for up to 4 months. However, they do contain a LOT of chocolate! And, just like any high quality chocolate, they will begin to melt in the heat. So, be sure to store them at 70ºF or below.
**To prevent melting, store at 70º or below**
Hand-crafted by MariGold Foods, Willis Texas
***Statement not evaluated by the FDA
Customers Love Our
Mint Chocolate Chip Fat Bombs