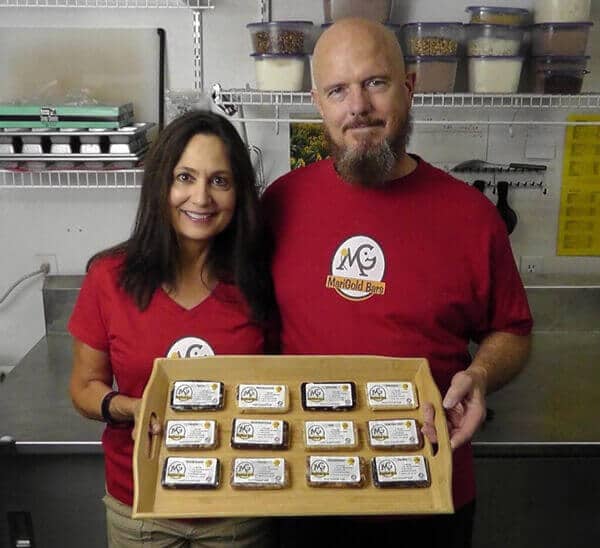 Hi, we're Mari Ann & Steve Lisenbe and together, we make MariGold Bars.
MariGold Bars are gourmet tasting…but extremely healthy… gluten free protein bars that we hand-craft and deliver fresh, without artificial ingredients, preservatives, excess sugar or chemicals.
MariGold Bars only contain the kinds of real foods that we like to put into our own bodies.
I had always studied nutrition, and ate what I thought was a healthy diet… you know, fresh foods and lots of whole grains. In fact, I'd become a vegan! But, I was still dealing with some major health issues and the doctors I was seeing were recommending all kinds of drugs to "fix" my problems.
In 2002, when I found out I was gluten intolerant, I couldn't help but share with others how eliminating grains from my diet changed my life! I taught local classes in nutrition and even started a free online fitness program called MARI Method as a way to help others get healthy by changing their diets.
One thing that people kept asking was for me to recommend a protein bar – something they could take with them as a healthy, high-protein snack.
I searched all the bars on the market (and there are TONS of them), but could not find one to meet ALL my requirements:
Real ingredients (as in all natural, no franken-foods or chemicals)
High quality high protein (not junk-quality protein!)
Low sugar, but no artificial sugars or sugar alcohols
Grain Free (true gluten free). Many bars claim to be gluten free, but are actually only wheat gluten free…they contain other forms of gluten!
So, I decided to try my hand at making protein bars!
The first bar I made was what's now known as our Chocolate Praline bar. If you've ever had one of those hand-wrapped caramels they sell in quaint little Mexican food restaurants… you know the taste! Except that I also added in a bit of organic dark chocolate.
I let my friends try them out. They loved them, and asked for more.
So, I tried another bar. This one was an all vanilla bar stuffed with raw coconut, golden flaxseeds and raw cashews. It was a hit, too!
Friends told me that if I'd make the bars, they'd buy them. So, I did…and they did!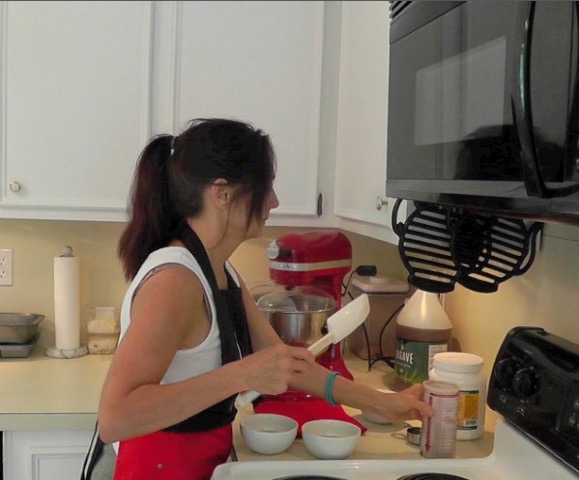 I was so overwhelmed (and unprepared!) for the number of orders that came in that Steve had to come to my rescue and offered to help make the bars.
That was in November, 2011. We've spent time since then getting our Texas Food Manufacturer's License and setting up our own commercial kitchen. We decided to build our own facility because we could not rent a kitchen without risking cross-contamination from gluten.
We officially launched our bars in September, 2012 with a successful Kickstarter project.  Then in 2014 we were named one of the top finalists in the H-E-B Quest for Texas Best!
MariGold Bars has continued to grow, mainly by word of mouth. We now have satisfied customers from Florida to Maine to Alaska and Hawaii! People seem to love our bars and have been telling their friends and trainers about them!
And, trainers across the country are telling their clients. For this, we are extremely honored and thankful.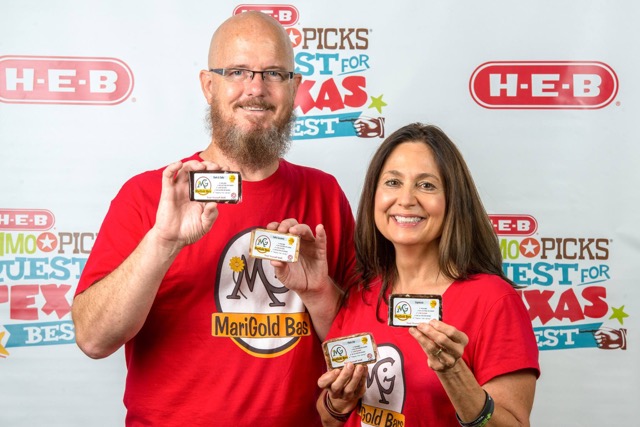 We now offer 20+ flavors of bars, all with less than 4 grams of sugar and 20+ grams of protein.
All flavors must meet our strict nutritional requirements … all high protein, all low sugar, completely non GMO, and zero artificial ingredients!
And, of course, always true gluten free (grain free).
Give our decadent tasting MariGold Bars a try and you'll understand why we say "Taste Matters"!
Our What's in our Products page, along with our Nutritional Information page will also give you in depth information about how we make our bars, snacks and more.
Be sure to check out our customer reviews. It's much more fun to let others do the bragging!