Whey Protein Isolate Creamy Vanilla – 1 Serving GO-PAK
$2.99
Serving Size: 1 packet (30g)
Servings per packet: 1
MariGold Whey Isolate is derived from sweet Irish milk given from Truly Grass-Fed™ cows who spend 95% of their time roaming freely and feasting upon the delicious green grasses of the breathtaking Irish countryside.
MariGold Creamy Vanilla Whey Protein Isolate has everything you want in a protein drink, and none of the things you don't!
Truly Grass Fed™ whey isolate for pure protein your body craves
Zero lactose and casein so NO BLOATING
Organic Vanilla Flavor for clean taste
Zero sugar
Boost of L-Glutamine for immunity, gut health and strong muscles*
Availability: In stock
This item is Best Seller in following categories:
Someone from FOREST GROVE & 18 others
bought this item recently.
L-Glutamine For Gut Health
& Increased Recovery*
Whey Isolate Protein Powder : What's Inside
SERVING SIZE: 1 Packet (30g)
SERVINGS PER CONTAINER: 1
AMOUNT PER SERVING:
Calories 102; Total Fat 0.25g; Saturated Fat 0.15g; Trans Fat <0.02g; Polyunsaturated Fat 0.08g; Monounsaturated Fat 0.05g; Cholesterol 0mg; Sodium 114mg; Total Carb 3g; Dietary Fiber 2g; Sugars 0.09g; Protein 20g; Potassium: 337 mg; Magnesium 33 mg; Calcium 19mg; Phosphorus 19mg; Iron 0.47mg 
INGREDIENTS: Whey isolate from TRULY Grass Fed™ cows milk; L-Glutamine; Organic Vanilla Flavor; Stevia; Sunflower Lecithin
L-Glutamine is a product of South Korea.
Allergen: MILK
Ovo Lacto vegetarian status
Kosher and Halal approved
Store in a cool dry place away from direct sunlight. Packaged by weight not volume, settling may occur.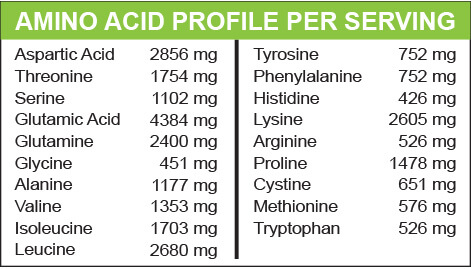 ** Manufactured in a facility that processes peanuts, tree nuts, and milk. **
*These statements have not been evaluated by the Food and Drug Administration. This product is not intended to diagnose, treat, cure, or prevent any disease.
MariGold Protein Powder
Creamy Vanilla
(1 Serving SAMPLER)
Reviews