Collagen, the most abundant protein in the human body, is responsible for regenerating and forming new tissue, and is crucial for skin, hair, nail, joint, and bone health. As we age, the skin's collagen matrix starts to decline, collagen fibers break down, and the rate of regeneration slows dramatically. This process can start as early as age 25, and by age 40, collagen production generally decreases by 25 percent. By age 60, it decreases by more than 50 percent. The result: sagging skin, fine lines and wrinkles, and aching joints.
Studies on Collagen & What They Show
Up to 28 different kinds of collagen have been identified, but the vast majority fall into three categories, known as types 1, 2, and 3. Supplementing with collagen (types 1, 2, 3, or a combination of the three) has been shown in several studies to protect against bone and joint diseases and fight skin aging. Some highlights:
People who took 3 grams of a collagen extract significantly improved recovery after exercise.
Collagen supplements reduced pain and decreased inflammation in people with osteoarthritis.
Athletes who took 10 grams of collagen per day significantly improved joint pain, mobility, and inflammation.
Skin elasticity was significantly higher in women who took 2.5–5 grams of collagen; skin moisture also improved.
Supplementing with 1 gram of a collagen extract led to a significant reduction of skin dryness and scaling, a lessening of lines and wrinkles, enhanced circulation, and a significant increase in collagen levels in the skin.
Collagen supplementation was found to stimulate tissue regeneration, reduce and prevent joint pain, slow bone density loss, and lessen skin aging.
What You Need to Know About Buying & Taking Collagen
Studies suggest that a dosage of 2–10 grams per day of collagen is effective, and higher doses aren't harmful. Look for hydrolyzed collagen (also called collagen hydrolysate), a form that's been broken down to make it easier to digest and absorb. Hydrolyzed collagen also dissolves easily in cold water, making it more convenient to take.
For the highest quality, choose collagen products made from organic poultry, grass-fed cows, or sustainably sourced fish. Pure collagen should be colorless when mixed with water, and virtually tasteless, unless you're using a blend that includes flavors, extracts, or other ingredients. If a collagen product has a yellowish or brownish color, or an "off" taste, it's likely lower in quality.
The most common supplement forms of collagen are powders, capsules, drink mixes, concentrated "shots," and gummies—choose the form that you think you'll take most frequently. Some products may also contain vitamin C, which helps the body's own production of collagen, or hyaluronic acid, a lubricating substance naturally produced by the body that helps retain collagen in joints and skin. Some blends also include biotin and silica, which benefit hair and nails, or alpha lipoic acid, an antioxidant that encourages collagen production.
Tips from a Collagen Expert 
We asked collagen formulator Nick Bitz, ND, of Irvine, Calif., to weigh in on a few pressing questions:
Q: Does it really matter which type of collagen I use?
A: Most people have heard that types 1 and 3 are found in the skin, and type 2 is found in the joints. While this is technically true, it does not mean that you need to consume "types 1 and 3" collagen in order to receive the skin benefits, nor "type 2" collagen in order to receive the joint benefits. As long as you are consuming "hydrolyzed collagen," you're getting the same 18 amino acids that your body needs to rebuild its collagen structures.
Q: Do I need to take collagen with food?
A: Collagen is a dietary protein. As a rule, dietary proteins are ideally consumed with a full meal (when digestive enzymes are at their highest) to optimize absorption and assimilation. But hydrolyzed collagen is a little different. It's a "pre-digested" protein that is already broken down into its peptide and amino acid subunits. So it requires minimal digestive effort to absorb and utilize. Studies show that collagen's bioavailability (the amount that enters the bloodstream) is not dependent on the presence or absence of food, but rather on the degree of hydrolysis (how small the collagen subunits are). So to get the most out of your collagen, use a high-quality collagen that is "fully hydrolyzed."
Q: What are some other, lesser-known benefits of collagen?
A: Collagen is an incredibly versatile and functional protein. Although it's well-known for its skin and joint benefits, it has huge potential in other areas as well, including bone health, sports performance (especially for injury prevention and recovery), inflammation, gut health, and cardiovascular health (after all, your blood vessels are composed of collagen). 
Written by Lisa Turner for Better Nutrition and legally licensed through the Matcha publisher network. Please direct all licensing questions to legal@getmatcha.com.
Featured image provided by Better Nutrition
A Collagen Boost with MariGold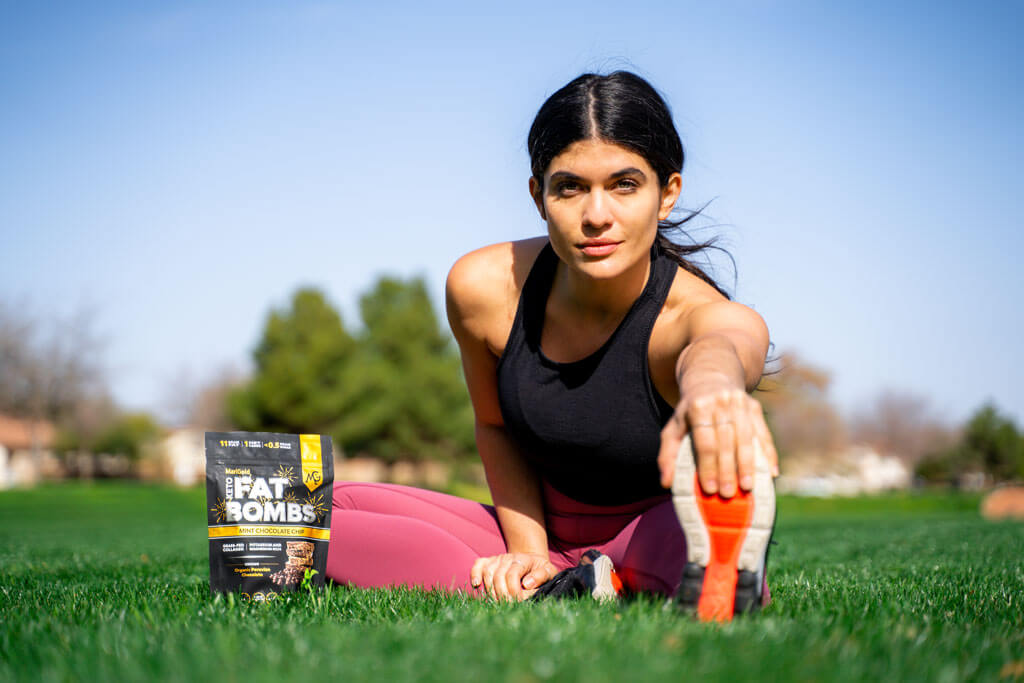 MariGold's Keto Fat Bombs are filled with grass-fed collagen for healthy strong bones and glowing skin.
Our fat bombs are also a great keto friendly snack that are high in fat, low-carb and filled with premium, good for you ingredients like Organic Cocoa Butter, and Organic Grass-Fed Ghee.
They come in 5 great tasting flavors too!
You can stay in ketosis and enjoy a delicious treat!