Strongman vs The Protein Bar
Cale Schultz vs MariGold Primal Protein Bars
How MariGold Bars First Ever "Action Commercial" Came To Be
I first "met" Cale Schultz about 3 years ago when he contacted me on Facebook, complimenting me on our MariGold Bars. He told me that he eats a lot of protein bars, but had never seen any bars that compared to ours… both in taste and in the quality of our ingredients.
Cale and I became fast Internet friends because we both share a passion for high quality "clean" food. He encouraged me to stay true to what we were doing, and to not sell out as we grew (no worries there!)
In the beginning, Cale told me he works for a stunt company in Hollywood.
It wasn't until later that I found out he's actually the Director of Operations for 87Eleven Action Design. Those are the bad boys behind "John Wick", "Deadpool", "Logan", and many other hits. And, that he's also Director of Strength & Conditioning at Paleo f(x).
Anyway, Cale became a true believer in the quality of our protein bars and he began spreading the word about us to the Paleo community.
At that time, whey, even grass-fed whey isolate like we use, was not officially accepted in the Paleo community. (It is now)
But, Cale's someone who's much more concerned about real food than labels. So, he was still buying our bars and sharing info about MariGold to people looking for a clean, high-protein snack.
Fast Forward to Paleo f(x) 2017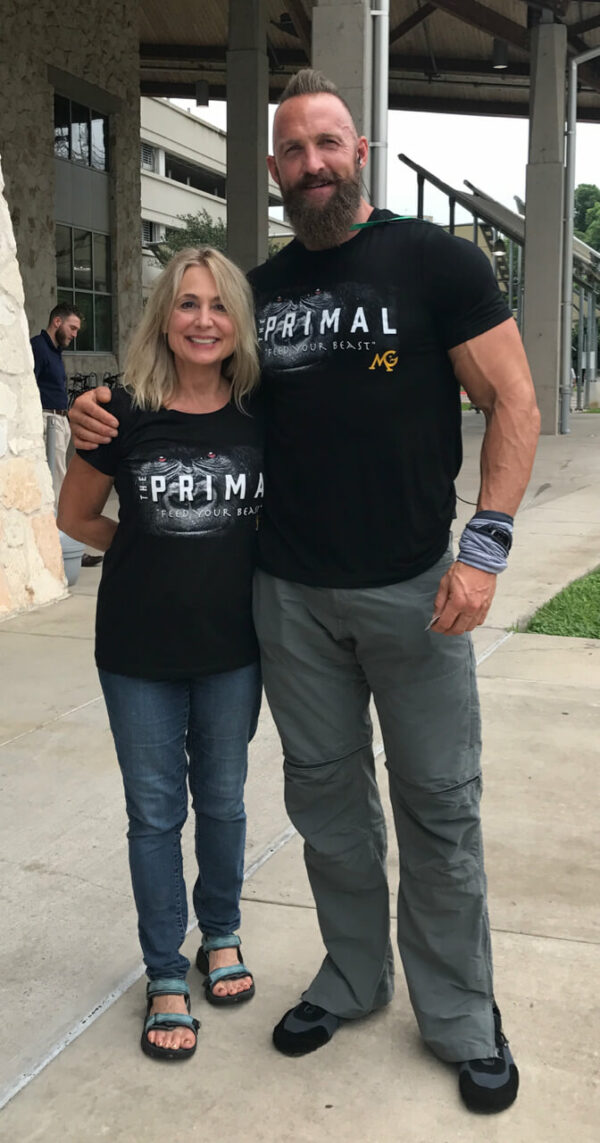 As the 2017 Paleo f(x) was being planned, Cale began encouraging me to go. And, thankfully, things worked out for Jacob & me to attend! When we walked in, we were already a huge hit. Apparently, Cale had been talking up MariGold Bars to everyone there!
Now, up until this point, I'd never actually met Cale in the flesh.
It's pretty cool, though, how you can become friends with someone online, and then, when you do finally meet, it's like you've known each other forever. And that's exactly how it was with Cale.
The Promise Over Lunch
Not surprising, Cale's a fan of real Texas BBQ, so we headed over to Terry Black's BBQ for some lunch and a chance to finally talk face to face.
While eating ribs (I used my fingers, but Cale used a fork!)… we were joking about how "challenging" it is to open our bars.
Over the years, I've learned that a lot of guys carry a pocket knife for the sole purpose of opening their MariGold Bars. And, we laughed as Cale pulled out the pocket knife that he uses!
Then, Cale mentioned his idea about creating this funny video for us.  And, told me to remind him in a couple of weeks since he was pretty busy with some current projects.
Did I REALLY Say That?
After a couple of weeks passed, I sent Cale a message saying I realized that his promise of the video may fall into the "oh crap, did I really say that" category, and if so, to just let me know.
To my surprise, he told me that he really meant it, and would have a video ready for me in a couple of weeks!
And, true to his word, Cale Schultz delivered!  Strongman vs MariGold Protein Bars video . Be sure to leave a comment below and let us know what you think!
Want to learn more about Cale, just click here
Want to try Cale's favorite MariGold Bar, just click here