We're surprised you can even dissolve that much sugar in a takeaway cup.
No-one likes the fun police, especially when it comes to the festive season, and we're certainly not going to say that you should never treat yourself to one of the hot Christmas-in-a-cup drinks on the list below. But it's worth knowing what you're getting yourself in for if you do, because these drinks are crazy sugary.
We're talking more-sugar-than-Coke sugary in many cases (a can of regular Coke is something like 35g). The kind of sugary that sees you blow past the recommended daily intake of the sweet stuff before you're two-thirds of the way through your mug. Here are the top ten worst offenders this Christmas, compiled by The Hospital Group:
Mint hot chocolate, Pret a Manger – 47.9g
Hazelnut hot chocolate, Pret a Manger – 47.9
Mint mocha, Greggs – 46g
Mint hot chocolate, Greggs – 46g
Salted caramel hot chocolate, Caffé Nero – 38.8g
Hazelnut hot chocolate, Caffé Nero – 38.2g
Toasted marshmallow hot chocolate, Starbucks – 36.7g
Ginger hot chocolate, Caffé Nero – 35.8g
Eggnog latte, Starbucks – 33.8g
Hazelnut praline and cream frostino, Costa Coffee – 33.2g
Why is so much sugar in one sitting a problem? Well, you probably have some idea, but for an informed explanation of the consequences of downing all that sugar in one go, here's George Hamlyn-Williams, principal dietitian at The Hospital Group.
"The maximum recommended daily intake of sugar is around 30g a day for an average adult," says Hamlyn-Williams. "All the top ten most sugar filled festive drinks contain more than this daily amount.
"While Christmas can be a time for indulgence, it's important to remember that sugar overconsumption can lead to short-term changes in energy levels and mood, as well as tooth decay and an increase in weight, which can increase the long-term risk of type 2 diabetes."
No-one needs mood swings around Christmas. We've all seen how nasty it can get around the Monopoly board.
"Spreading your sugar intake out over the course of the day, including meals and snacks, is a much better idea," says Hamlyn-Williams. "Drinking your entire intake in one drink may also mean excessive overconsumption if your meals are sugar-heavy too."
Let's be honest, your meals probably are going to be sugar-laden at Christmas. One mince pie will usually contain over 10g of sugar, then there are the advent calendar chocolates, honey-glazed vegetables, Christmas pud, tree chocolates… you get the idea.
Written by Nick Harris-Fry for Coach and legally licensed through the Matcha publisher network. Please direct all licensing questions to legal@getmatcha.com.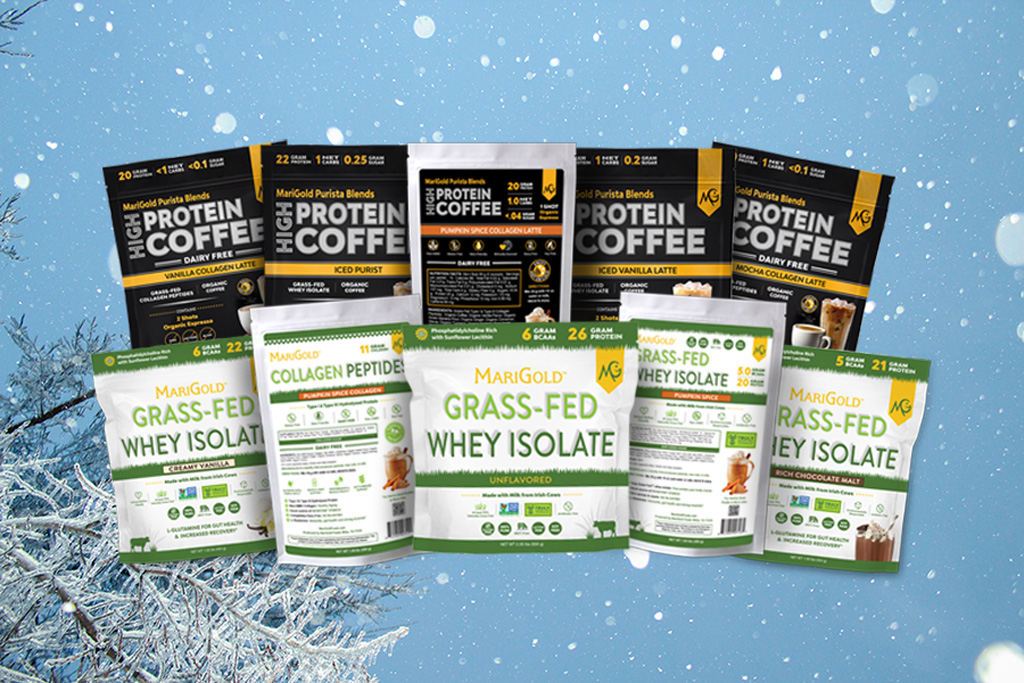 One way to curb sugar cravings during the holidays is to make sure you're putting the right nutrients in your body.
Start your day the right way with one of our Protein Coffees. You'll get a healthy dose of nutrient-rich protein along with an organic coffee flavonoid boost to give you the energy and fuel your body needs. 
You can start your day with a delicious, decadent high protein coffee that will give you a nutrient-rich protein boost with our premium quality grass-fed whey isolate or collagen protein (for a diary-free option). 
They also contain organic coffee for flavonoid boost to give you the energy you need for your day.  They are all very low sugar (all of our flavors less than 2g – including our seasonal Pumpkin Spice Lattes). 
In addition to a protein boost, all of our powders are designed to support a healthy gut and immune system – which is very important during the holidays!
Our Collagen Peptides also have bone-strengthening and skin-rejuvenating benefits for feeling your best and maintaining glowing, radiant skin during the colder fall and winter months. 
If you prefer our Grass-fed Whey Isolate, you can enjoy flavors like Rich Chocolate Malt and Creamy Vanilla while supporting healthy muscles (amino acids for building and repairing) and brain function (non-GMO Sunflower Lecithin that is rich in phosphatidylcholine).
While all our Protein Coffees, Collagen Peptides, and Whey Isolate Protein powders are delicious on their own, we wanted to share with you some creations from our customers that are not only decadent, rich in flavor, and delicious, but many are low-carb, keto-friendly, and use simple ingredients.
Be sure to share with us your favorite from the list, or create your own. We always love to see how you're enjoying MariGold products!
MariGold Festive Drink Alternatives: