KETO GINGERBREAD PROTEIN COOKIES
(Keto-Friendly, Low Carb, Sugar-Free)
If you're looking for a way to enjoy a decadent holiday cookie with that classic gingerbread flavor, but don't want all the excess sugar and empty calories….then these Keto Gingerbread Protein Cookies are the perfect treat for you!
These cookies are made with simple ingredients, but pack a protein punch in the form of a MariGold Gingerbread Protein Bar! With delicious pecan chunks, hints of cinnamon and clove, and healthy fats like organic grass-fed ghee and organic coconut oil, this cookie will hit all the marks on flavor. 
Not only that, but they will also give your body a nutrient boost for lasting energy throughout your day.
This recipe by @ghostingcarbs will satisfy all your holiday gingerbread cravings in a healthy way!
Be sure to check out @ghostingcarbs on Instagram for more unique, awesomely creative low-carb/keto recipes and treats.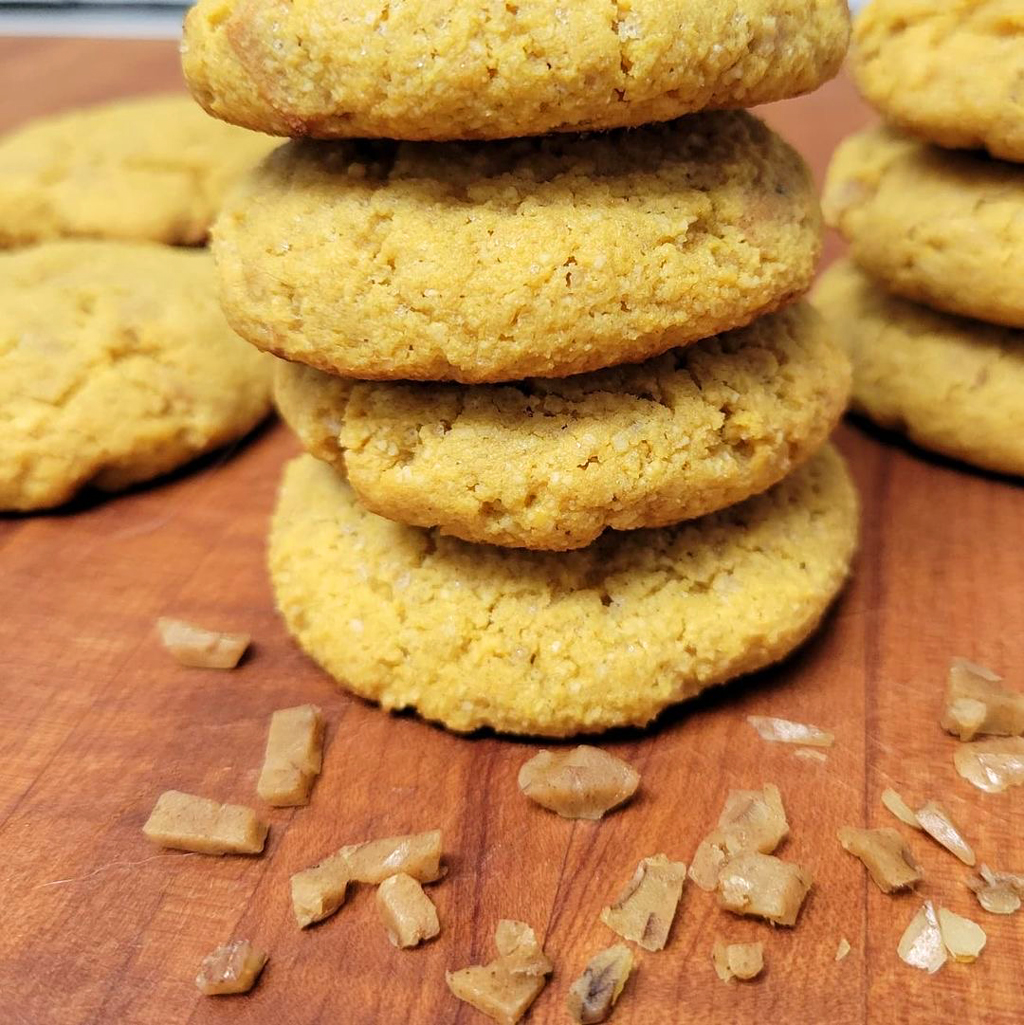 "I love cookies. I mean, who doesn't!?!? And you can even add a little bit of protein. Instead of adding chocolate chips, I chopped up one @marigoldbars Gingerbread protein bar." 
1 cup almond flour
1 cup lupin flour
1 stick softened butter
3/4 cup brown sweetener (I used @swervesweetie)
1 egg
1 egg yolk
1/2 tsp baking powder
1/2 tap baking soda
Pinch of salt
Half tsp vanilla extract
3 tbsp macadamia nut milk
1 chopped MariGold Gingerbread Protein Bar
Combine both flours, baking powder, baking soda, and salt in a bowl.
In a stand mixer, mix butter and swerve. Add egg, yolk, milk and vanilla until combined.
Add dry ingredients and mix to combine.
And chopped bar bits until mixed in.
Line a baking sheet with parchment or a silicone mat and scoop out dough into 24 cookies.
Bake at 350 for 10 minutes!
MariGold ingredients used in this recipe:
Nothing says Fall quite like the smell of warm gingerbread in the oven! The scents of ginger, cinnamon and clove float through the air. Can't you just taste it??
But, oh… the sugar and carbs in traditional gingerbread!!
Our Gingerbread Bar gives you all the yummy taste of gingerbread that you crave, but with macros that will have you jumping for joy!