LATTE BAKED OATMEAL
(High-Protein / Dairy-Free / Gluten-Free / Low-Sugar)
When coffee isn't enough in the morning, some coffee spiked oatmeal might do the trick!
This Latte Baked Oatmeal combines two breakfast-time favorites into one bowl and provides nutrients from the inside out!
Featured in this recipe is our MariGold Mocha Collagen Latte High Protein Coffee that contains organic arabica coffee for a healthy, antioxidant-rich flavonoid boost. It also contains Grass-fed Collagen Peptides for strong bones and radiant skin.
The end result is a warm, delicious, chocolatey, coffee-flavored breakfast cake. 
Yuuummm!
It's easy to make, gluten-free, dairy-free, and packed with protein.
You can also add your favorite seasonings & toppings for a variety of flavor combinations!
Kat (@katalysthealth) creates simple recipes that are gluten free and super tasty! Be sure to check out @katalysthealth on Instagram for more unique, awesomely creative low-carb/keto recipes and treats.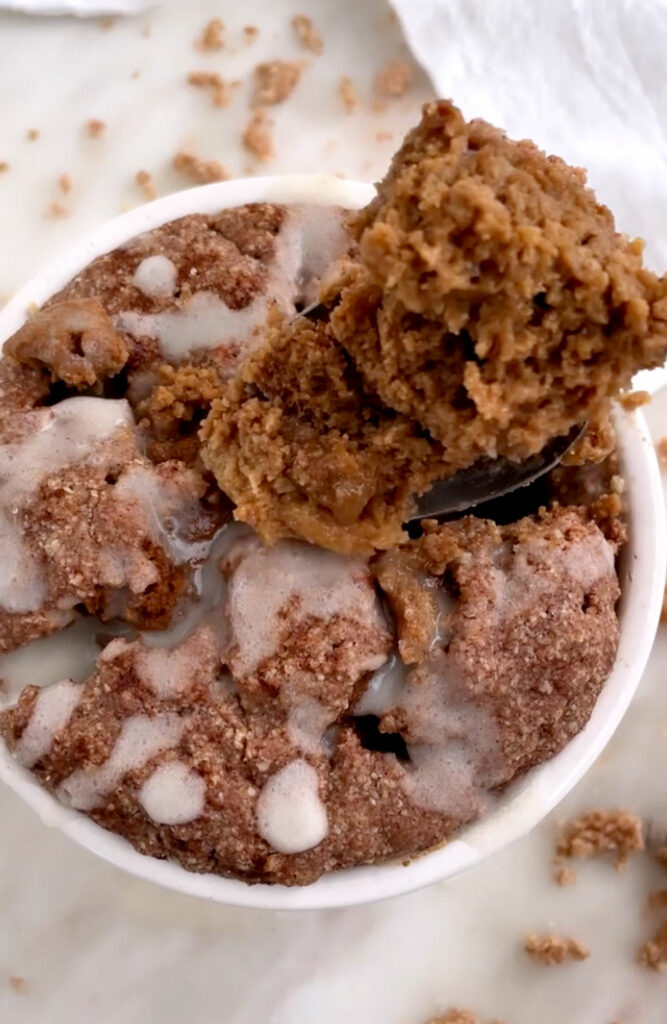 "The only thing better than drinking coffee is drinking coffee while eating coffee – ya know what I'm sayin'?" 
– Kat (@katalysthealth)
1/2 cup rolled (gluten-free) oats
1 teaspoon baking powder
1 heaping scoop MariGold Mocha Collagen Latte High Protein Coffee Powder
1/4 cup applesauce
1/4 cup almond milk
1 tablespoon (gluten-free) oat flour
1/2 tablespoon coconut sugar
1/2 tablespoon coconut oil
powder sugar or powdered sweetener (approx 1/4 cup)
almond milk (approx 1/2 tsp)
Preheat oven to 350 degrees.
Add oat ingredients to a blender & blend until smooth.
Pour into a greased ramekin. Mix together topping & crumble over top. Bake for 20-25 minutes.
Whisk together icing, drizzle on top & enjoy!!
MariGold ingredients used in this recipe:
Like the idea of protein coffee, but want a DAIRY FREE option?
If so, our Mocha Collagen Latte is for you!
All the same chocolatey goodness that's in our Iced Café Mocha but with the bone strengthening and hair & skin rejuvenating benefits of collagen protein!
Brings together delicious "superfood" cocoa, our grass-fed collagen peptides and a kick of pure organic arabica coffee to enlighten your senses and brighten your day.
And, it's 100% Dairy Free!
More Recipes using our Mocha Collagen Latte: