PEANUT BUTTER CARAMEL LATTE OVERNIGHT OATS
(Gluten-Free / Dairy-Free / Low-Sugar)
This Peanut Butter Caramel Latte Overnight Oats recipe is easy to make and is the perfect, satisfying and healthy breakfast to get your day started the right way.
Included in this tasty creation is our MariGold Vanilla Collagen Latte for a flavonoid-rich, protein boost and the skin-rejuvenating, bone-strengthening benefits from Grass-Fed Collagen Peptides.
It's gluten-free, high-protein, and full of antioxidants, minerals, fiber, and omega-3 fatty acids from chia seeds. Whoa!
Now, here's the fun part about this recipe by Kat (@katalysthealth)…you can use ANY of our MariGold powders to create your own unique version. 
Not only do we have several High Protein Coffee flavors to choose from, but we've got Whey Isolate Powder and Collagen Powders too. They now come in yummy flavors like Strawberry Sundae and even Peanut Butter! Or you can always go with classic, delicious chocolate or vanilla.
Kat (@katalysthealth) creates simple recipes that are gluten free and super tasty! Be sure to check out @katalysthealth on Instagram for more unique, awesomely creative low-carb/keto recipes and treats.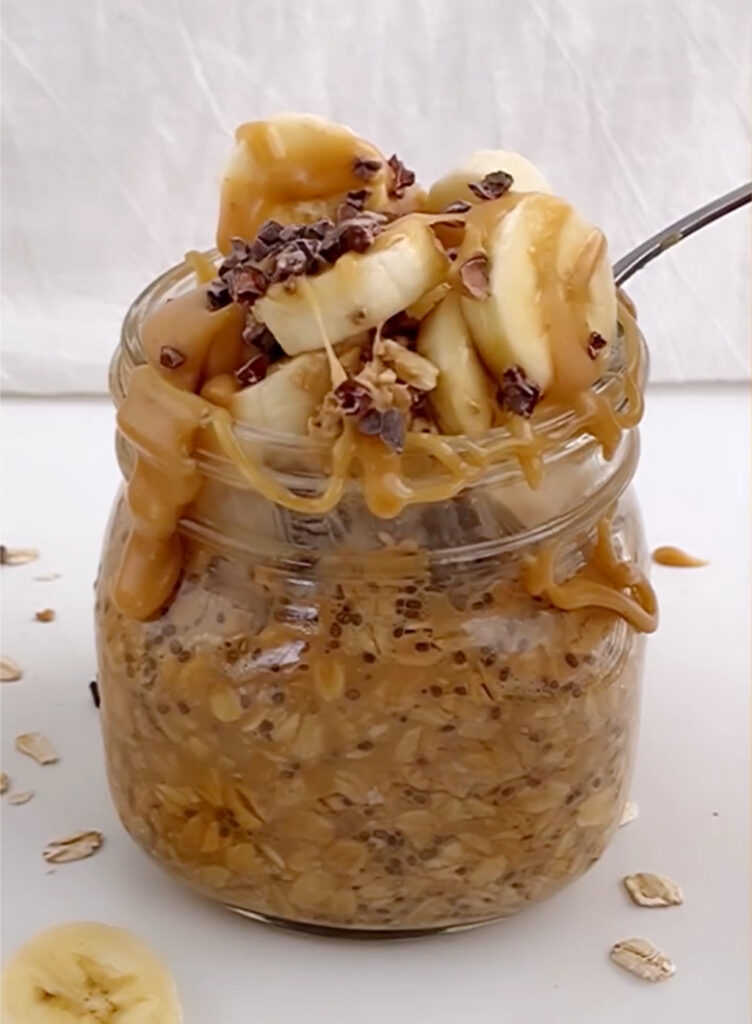 1 tablespoon peanut butter
1 tablespoon maple syrup/honey
Mix together oat ingredients & let sit overnight.
When ready to eat, mix together caramel & drizzle over top with banana & cacao nibs.
MariGold ingredients used in this recipe:
Like the idea of protein coffee, but want a DAIRY FREE option? If so, our Vanilla Collagen Latte is for you!
All the same vanilla goodness that's in our Iced Vanilla Latte, but with the bone strengthening and hair & skin rejuvenating benefits of collagen protein!
Combines rich organic vanilla with and robust organic arabica coffee to create a decadent creamy flavor experience that's so delicious, you won't believe it's so good for you!
And, it's 100% Dairy Free.