PROTEIN-PACKED SMOOTHIE BOWL
(High Protein / Keto-Friendly / Gluten-Free / Lactose Free)
Looking for a tasty and nutritious way to fuel your day? Our Protein-Packed Smoothie Bowl is the perfect energy-boosting breakfast or for any time of day when you need a pick-me-up.
What's in the Protein-Packed Smoothie Bowl?
💪 MariGold Whey Isolate Protein for Power – Our smoothie bowl features high-quality Grass-fed Whey Isolate Protein (your choice of flavor), for muscle-repairing and appetite-satisfying benefits. It's the ideal protein source to start your day or recharge your energy levels throughout.
🍵 MariGold Matcha Green Tea for Vitality – Matcha green tea, a superstar ingredient, infuses our bowl with a burst of antioxidants and an energy lift without the jitters. Experience improved metabolism and a focused mind to tackle whatever your day holds.
😋 Sweet & Salty Cashews for Flavorful Crunch – Tantalize your taste buds with the delightful contrast of sweet and salty cashews. Beyond their irresistible taste, they bring heart-healthy fats, protein, and essential minerals.
Whether you're jumpstarting your morning or seeking a wholesome midday recharge, our Protein-Packed Smoothie Bowl has you covered. You'll stay full, energized, and nourished, all day long.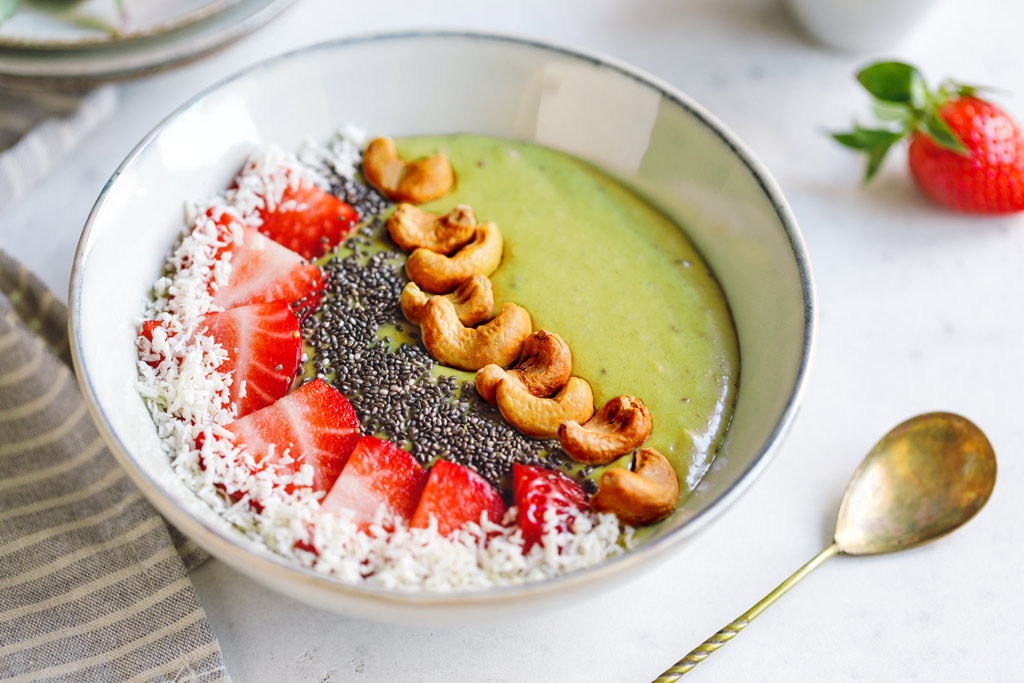 1 scoop of MariGold Grass-fed Whey Isolate Protein Powder (Creamy Vanilla, Rich Chocolate Malt, Strawberry Sundae, Peanut Butter, or your preferred flavor)
1 cup unsweetened almond milk (adjust for desired thickness)
1 handful of fresh spinach leaves
1/2 cup ice cubes (adjust for desired thickness)
Sliced strawberries
A sprinkle of MariGold Matcha Green Tea Powder (or desired amount)
Additional toppings (optional): shredded coconut, chia seeds, or a drizzle of nut butter
In a blender, combine the Grass-fed Whey Isolate Protein Powder, unsweetened almond milk, fresh spinach, and ice cubes.
Blend until the mixture is smooth and creamy. You can adjust the almond milk quantity to achieve your preferred thickness.
Pour the smoothie mixture into a bowl.
Top with sliced strawberries, Sweet & Salty Cashews, and a sprinkle of Matcha green tea powder.
Add Extra Toppings (Optional): If desired, you can further enhance your smoothie bowl with additional toppings like shredded coconut, chia seeds, or a drizzle of your favorite nut butter.
Grab a spoon and dive into your Protein-Packed Smoothie Bowl. Enjoy the burst of flavors, textures, and the boost of protein and antioxidants!
MariGold ingredients used in this recipe: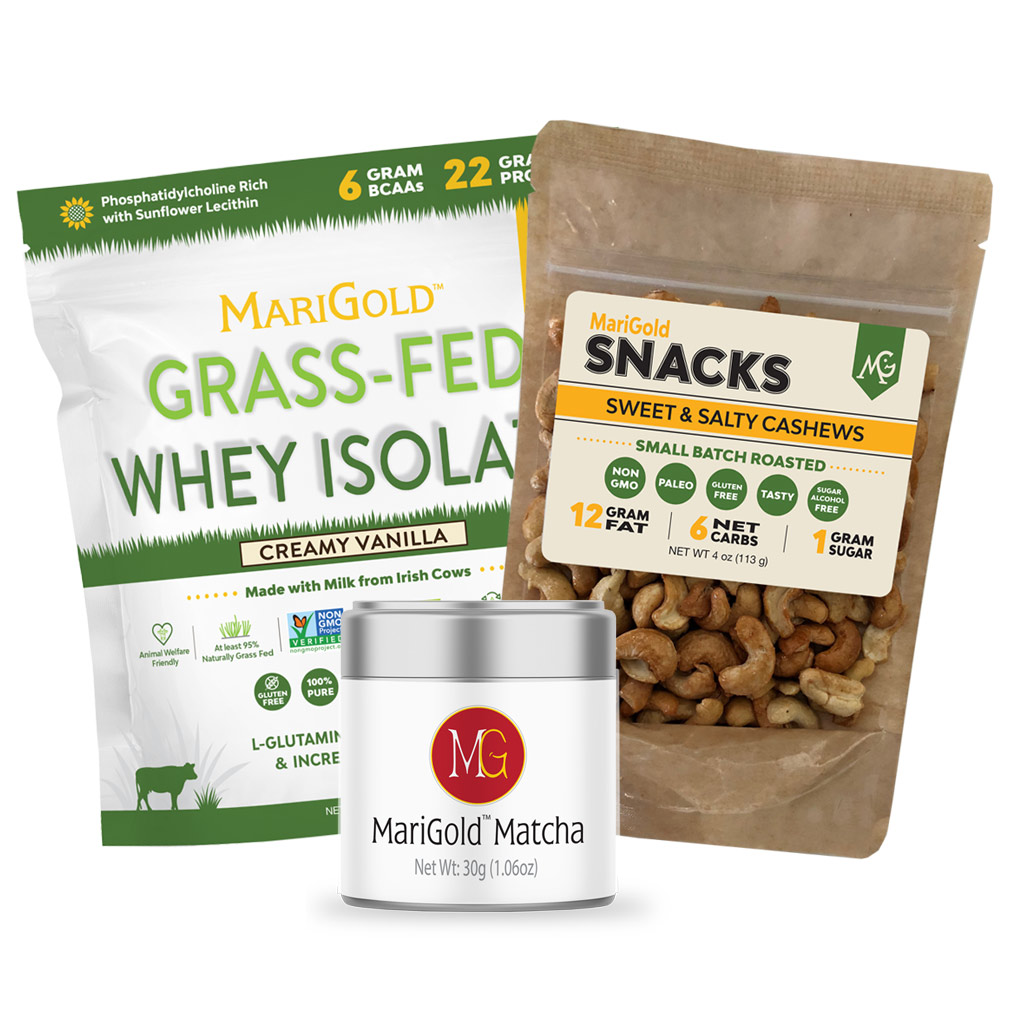 MariGold Whey Isolate is derived from sweet Irish milk given from Truly Grass-Fed™ cows who spend 95% of their time roaming freely and feasting upon the delicious green grasses of the breathtaking Irish countryside.
MariGold Creamy Vanilla Whey Protein Isolate has everything you want in a protein drink, and none of the things you don't!
Ceremonial Grade
100% USDA Certified Organic
NON-GMO Project Verified
MariGold Matcha tea is sourced from the finest tea pastures of Kagoshima, Japan, where the leaves are shaded from sunlight prior to harvest in order to preserve their natural nutrients, color, and flavor. This allows you to enjoy all of its antioxidants, amino acids, vitamins, minerals, and fiber. One cup of matcha has the nutritional equivalent of 10 cups of regular green tea!
We almost named these "OMG!", since that is the typical response we hear when anyone first tastes our Sweet & Salty Cashews.
But, in typical, non-hypey MariGold fashion, we'll just say that we take non-GMO cashews and hand-roast them in small batches using only the best ingredients:
chicory root fiber
organic stevia
pink salt