Smore's Layer Cake - with a Protein Boost!
(Sugar-Free, Low-Carb, Keto-Friendly)
Don't Smore's just make you feel like a kid again?
Ahhh…the good old days of sitting around a campfire and cooking marshmallows to perfection.
With the weather getting colder, most people are spending more time indoors and aren't planning as many camping trips…and as delicious as Smore's are, they are full of sugar and empty calories.
But, don't let that stop you from enjoying that classic Smore's taste!
We've got a recipe from Deedee (@healthyeatswithdeedee) that will give you all the nostalgic vibes while getting a nutritious protein boost!
This Smore's Layer Cake recipe includes our MariGold Creamy Vanilla Whey Isolate Protein Powder along with sugar-free, low-carb, and keto-friendly ingredients.
Have your cake and protein too!
Deedee loves baking and creating keto & low carb recipes. She shares her incredible creations on her Instagram. Be sure follow her (@healthyeatswithdeedee) for more creative and amazing recipes!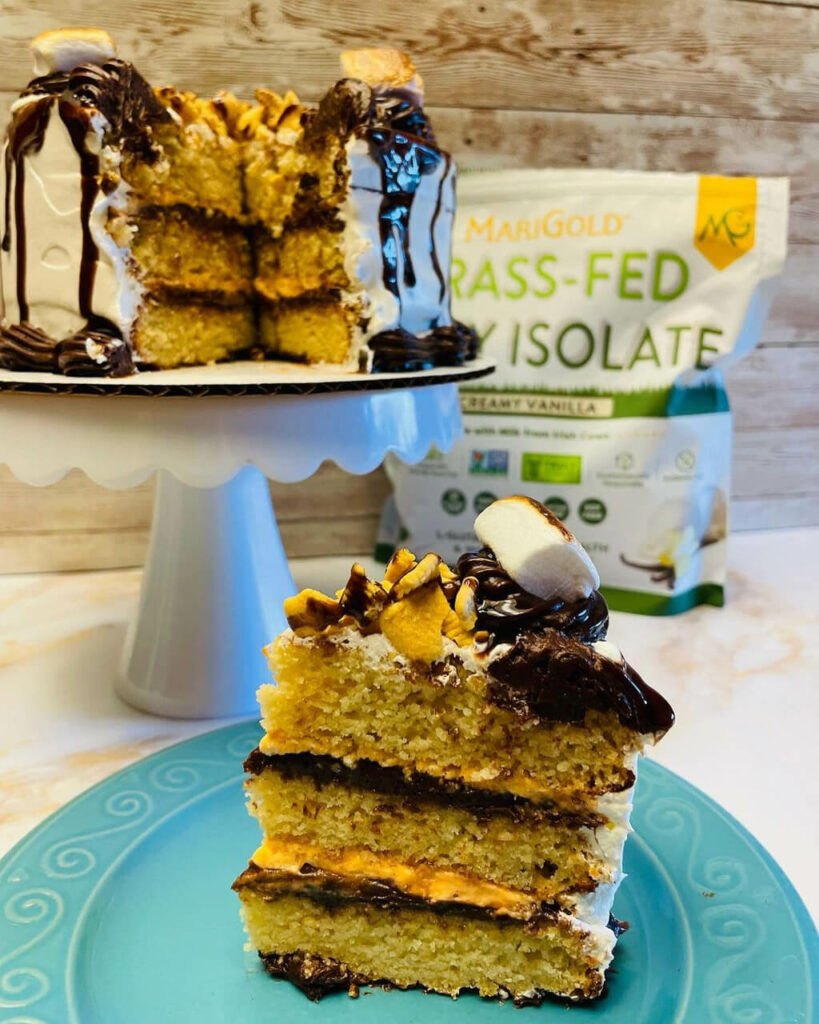 "This cake was so delicious! It's layers of vanilla cake with chocolate ganache & cinnamon marshmallow filling. Iced in homemade whipped cream with more chocolate ganache drizzle."
– Deedee (@healthyeatswithdeedee)
4 TBSP Butter, softened
1/2 C Sweetener (i.e. allulose)
3 Eggs, room temperature
1 C Almond Flour
1/4 C MariGold Creamy Vanilla Whey Isolate Protein Powder
1 1/2 TSP Baking Powder
3/4 C Sour Cream
2 TSP Vanilla Extract
Pinch of salt
Cinnamon Marshmallow Filling
4 Oz Cream cheese, softened
2 TBSP Butter, softened
1 TSP Vanilla extract
1 TBSP Heavy cream
1/2 C Powdered sweetener (i.e. allulose)
1 TSP Cinnamon
1 TSP Marshmallow flavoring by @oooflavors
Mix butter, sweetener, & eggs until combined. Add all dry ingredients and mix just until combined. Stir in vanilla & sour cream.
I used three 6 inch cake pans, but you can use a larger pan or even cupcakes. Bake at 350 for 20-25 minutes until a toothpick comes out clean.
In electric mixer, blend together butter & cream cheese until combined. Add in vanilla extract & heavy cream and mix until you get a nice creamy mixture.
Add in sweetener and mix until everything is smooth. If you want thicker icing add more sweetener, if you want thinner icing add more heavy cream.
INGREDIENTS:
1/3 Cup heavy cream, 1/2 Cup keto-friendly chocolate chips (I use @choczero)
DIRECTIONS:
Heat cream in the microwave until bubbling hot. Add chocolate chips and cover. Let sit for 5 mins. Whisk together until it thickens up & let cool to room temperature. The longer it sits the thicker it will get.
The topping is crunched graham cracker cereal by @catalinacrunch & toasted marshmallows by @lovemaxsweets. I used my @culinaryjochef kitchen torch to toast the marshmallows.
MariGold ingredients used in this recipe:
MariGold Whey Isolate is derived from sweet Irish milk given from Truly Grass-Fed™ cows who spend 95% of their time roaming freely and feasting upon the delicious green grasses of the breathtaking Irish countryside.
MariGold Creamy Vanilla Whey Protein Isolate has everything you want in a protein drink, and none of the things you don't!