Running With The PAC(K)!
I used to run with the crowd.
Fitness was certainly my calling, and I enjoyed working in the industry, but it took a few big wake up calls before I finally realized it was time to break away from what had been done before.
I needed to blaze a trail and chart a new course. 
After graduating college I sat on my parents' couch. Bored and aimless.
I kind of liked fitness and had begun talking to a small gym about getting going, but also had a few résumés floating around in corporate circles.
I interviewed anywhere that would have me.  Even if I wasn't passionate about it, I would go just in case I could land a stable job.  I'd take personal training sessions when I could on a small scale, but in that season it wasn't anything special.  Nothing I saw growth potential in.
---
One night, while watching the summer Olympic Games on my folks' couch, I witnessed something that changed my outlook, and my career trajectory, forever.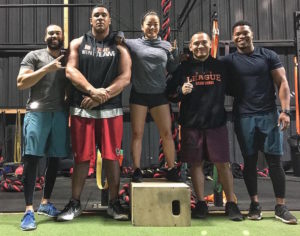 I saw an athlete I'd done some off-season conditioning for back in college running in a race.  The wildest thing happened:  She won a gold medal!  Crazy.  What are the odds?  Her name, forever stamped in the history books for representing her nation on the world stage and being framed as the fastest on the planet.
I couldn't believe I'd had anything to do with it whatsoever. Immediately, I decided to dive into fitness full time, with a little athletic edge to my training technique. No dumbbells or machines, it was all about mobility and functional mechanics. No more résumés or chasing nine-to-fives. My dreams had just undergone a growth spurt and could not fit in a cubicle.
I began working at a small private health club doing personal training, and teaching every group exercise format imaginable.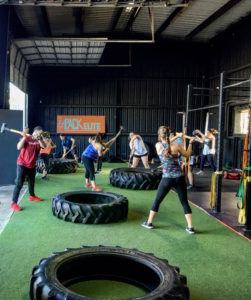 Over time I began to let go of some of the athletic edge (sadly), because I saw opportunity. I was watering down my craft, and masking it with the admirable motive of "ambition". I taught spin, kickboxing, boot camp, you name it. I was young and tireless, working myself sick in the pursuit of more clout in the gym scene and more money in my paycheck.
Still keeping some athletic contacts, I was able to get a few small scale off-season programs going with collegiate and pro athletes in the side. On another day of destiny, one of my professional football athletes arrived early for a session.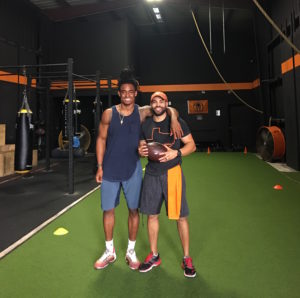 He sat in on a session I led with an older, less fit lady with an obviously considerable difference in lifestyle and goals from the young elite stud. After her session concluded, the 6'6″ beast made a big comment that set a light bulb off in my head: "You know, I see something really cool here. I notice that you have a skill for using the same type of system for her as you do for me, but modified to a level that makes sense to her and is doable. There's something to that!"
This again pushed me to dream on a new level.
I embraced the fact that I had a skill for developing athletic circuit training formats.  I could see that top tier athletes were taking notice.
I couldn't abandon my everyday clientele, but I wanted to let them in on something special; something BIG!
It was time to ditch conventional fitness.
I could no longer run with the crowd, and it was time to run with my new wild idea! On the premise that I always trained athletes via the three tenants of Power training, Aerobic training & Circuit training, I developed "PAC(K) Training", my own signature format that stands for these exact things.
---
I figured I'd just stay small scale for awhile, leasing out crowded corners in other people's gyms to operate my sessions, until someday maybe when I knew enough about business.
Enter Ashley: My amazing wife who'd worked in investment banking for awhile and loves spreadsheets the way I love hang cleans.  Jaded by the monotonous hustle of her job, she offered to quit.  I do fitness, she does business.  We'd now both take a big leap ad run a fitness business together.
Dream team!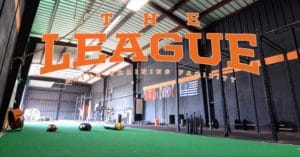 In December 2013, all of this culminated into the launch of The League: Elite Training Facility!
A warehouse gym in Houston, TX and the exclusive home of PAC(K) Training.
Our dream came true.
We now serve as the official strength & conditioning home of a university rugby program, a few stellar professional athletes, and most exciting of all, lots of average everyday people who are not athletes themselves, but desire to train like athletes.
No gimmicks, no affiliations!  Just us in our own lane bringing authentic sports practice drills into a lively group exercise community… and seeing lives changed by it daily.
I'm aware that this carries less of a fitness tone, and is more a statement on stepping out and building things, but I embrace that.
I love it.
After all, taking the plunge is what empowered me to get where I am as a fitness industry influencer!
I encourage you to go nuts and recklessly chase that big thing you dream about!
Go For It!
---
Terry Williams
Coach and Trainer
M.Ed, CSCS