BANANA CHOCOLATE CHIP PROTEIN MUFFINS
(High Protein / Gluten Free / Clean Eating)
If you need a healthy, protein-packed, easy-to-make, grab-and-go, pre/post-workout breakfast or snack, then these Banana Chocolate Chip Protein Muffins might be the perfect option.
Starting your day off with one of these muffins will fill you up and keep you satisfied with an amino acid-rich protein boost using our MariGold Creamy Vanilla Whey Isolate Powder.
These muffins combine the delicious combo of banana, peanut butter, chocolate, and strawberries (optional, but highly recommended). 
In addition to being delicious, you'll get an extra boost of potassium, vitamin E, vitamin B3 & B6, L-Glutamine for gut health, and healthy fat.
You can make these your own by trying different flavor combos! Our Rich Chocolate Malt WPI would make these extra chocolatey.
Enjoy!
Sari (@feed.your.soul.sari) creates delicious and inspiring real food recipes. Her goal is to help you find balance and health in all areas of life – especially through food. Be sure to check out her other amazing recipes on Instagram.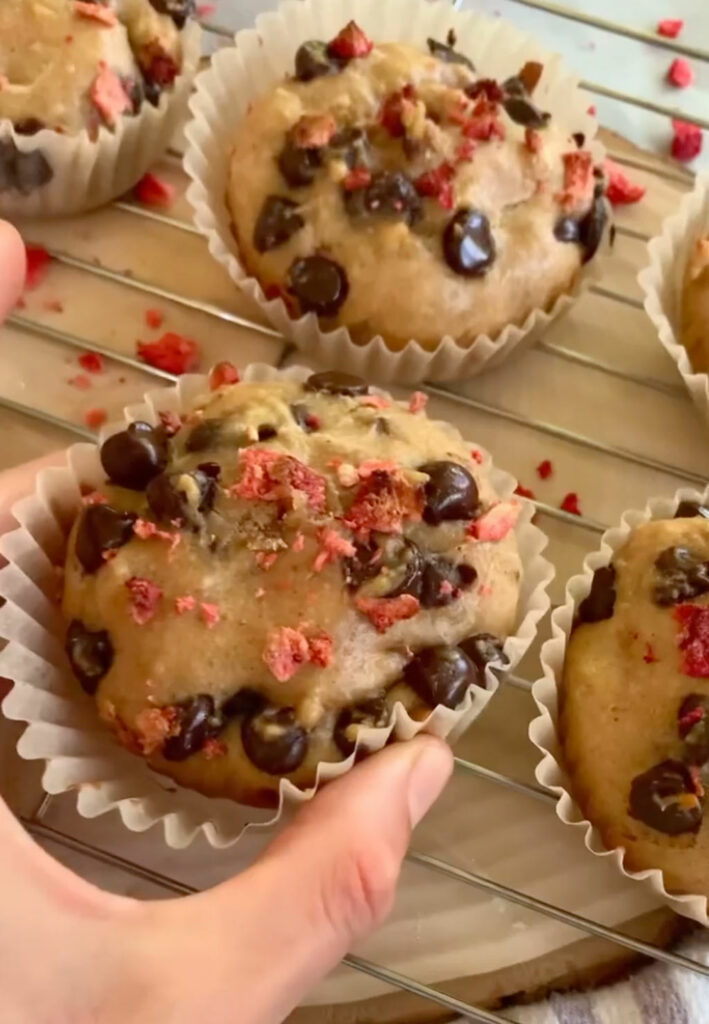 "These protein packed little bites are reminiscent of your favorite chocolate chip muffin, but with zero added sugar, completely gluten free, loaded with protein, and topped with freeze dried strawberries for a little something special!"
– Sari (@feed.your.soul.sari)
1 cup mashed banana
1/2 cup peanut butter
1/2 cup almond flour
1/2 tsp baking powder
1/2 cup refined sugar free chocolate chips
1/4 cup crushed freeze-dried strawberries
Preheat your oven to 325°
Mix together all ingredients, except chocolate and strawberries.
Scoop into muffin liners, then add chocolate chips and strawberries on top.
Bake for 10-12 minutes until toothpick comes out mostly clean. (They firm up a lot when cooling.)
Cool completely and enjoy!
MariGold ingredients used in this recipe:
MariGold Whey Isolate is derived from sweet Irish milk given from Truly Grass-Fed™ cows who spend 95% of their time roaming freely and feasting upon the delicious green grasses of the breathtaking Irish countryside.
MariGold Creamy Vanilla Whey Protein Isolate has everything you want in a protein drink, and none of the things you don't!