BANANA CHOCOLATE CHIP PROTEIN MUFFINS
(High Protein / Low Sugar / Gluten Free / Dairy Free)
Start your day off on the right foot with these gluten-free Banana Chocolate Chip Protein Muffins! Made with wholesome ingredients such as coconut oil, unsweetened almond milk, and mashed ripe bananas, these muffins are a healthy and delicious way to fuel your morning.
With the addition of our MariGold Creamy Vanilla Whey Isolate Protein Powder, they are packed with protein to help promote muscle growth and repair, support weight loss, and boost immunity. This protein boost makes these muffins a satisfying and energizing snack.
These muffins are also dairy-free and sweetened with monk fruit (low-sugar), making them the perfect breakfast or snack for anyone looking to make healthier choices without sacrificing flavor.
Grab the full recipe below and enjoy these tasty muffins right away!
Stephanie May Potter (@stephaniemaypotter) is a holistic health coach, certified integrative health practitioner, and co-founder of The Art of Living Well Podcast. She specializes in holistic nutrition and guides and empowers women to take control of their own health and happiness. She has a variety of delicious, health recipes on her website, so be sure to check it out! 
View Stephanie's original recipe here.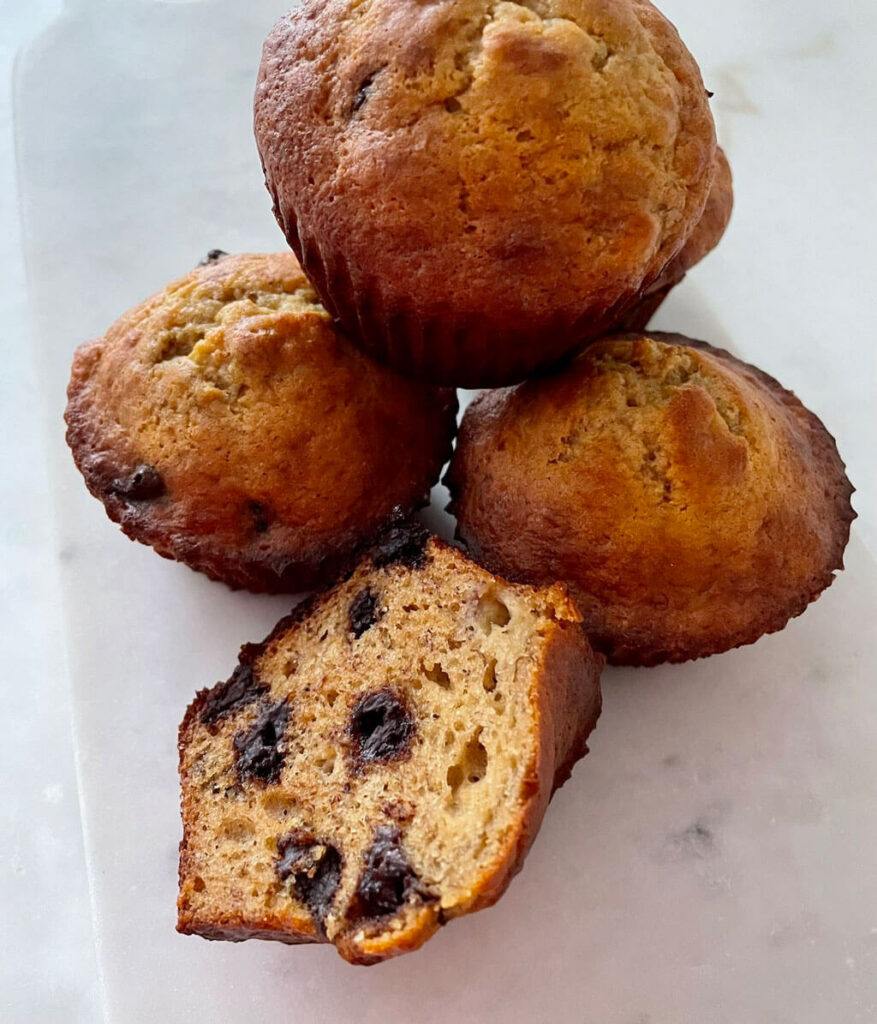 "These low sugar, protein banana chocolate chip muffins are delicious, gluten and dairy free and kid friendly. Plus, they are made without any refined sugar." 
– Stephanie May Potter (stephaniemaypotter.com)
2 eggs (beaten)
2 Tbsp cup coconut oil (melted)
1/4 cup unsweetened almond milk
2 large ripe bananas (mashed about 1 cup)
1/4 cup of no sugar maple flavored syrup (i.e. RXSugar brand)
1 tsp vanilla extract
1 cup all purpose gluten-free flour (I use King Arthur)
1/2 cup + 1 Tbsp MariGold Creamy Vanilla Whey Isolate Protein Powder
1 tsp baking soda
1/4 cup monk fruit sweetener (granules)
pinch of sea salt
1/2 cup + 1 Tbsp monk fruit or stevia sweetened chocolate chips
Pre-heat over to 350 degrees and line one muffin tin with liners and spray with oil (I like avocado oil)
Combine all wet ingredients (eggs through vanilla) with a whisk into a medium size bowl until well combined.
In a smaller bowl combine the dry ingredients (flour through salt) with a whisk.
Using a spatula, fold in the dry ingredients with the wet ingredients until there are no clumps and it's evenly combined. You may need to add a little more almond milk or more protein powder to obtain the right consistency. Fold in the dark chocolate chips.
Bake the muffins for 18-20 minutes or until an inserted toothpick comes out clean. Cool for 15 minutes and then gently remove the muffins from the pan. Enjoy on their own or add a bit of ghee or grass-fed butter, if desired and enjoy!
MariGold ingredients used in this recipe: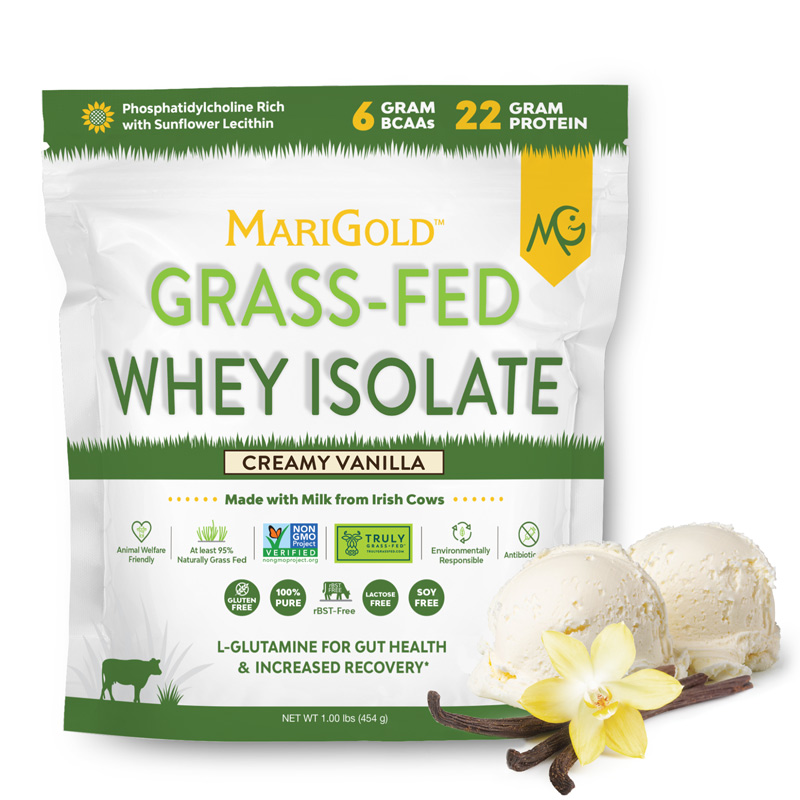 MariGold Whey Isolate is derived from sweet Irish milk given from Truly Grass-Fed™ cows who spend 95% of their time roaming freely and feasting upon the delicious green grasses of the breathtaking Irish countryside.
MariGold Creamy Vanilla Whey Protein Isolate has everything you want in a protein drink, and none of the things you don't!