PEACH NEAPOLITAN WAFFLE SANDWICH POPS
(High-Protein / Keto-Friendly / Low-Carb / Gluten-Free)
Do you love waffles, popsicles, and the flavors of Neapolitan ice cream? If so, you're in for a treat!
These Peach Neapolitan Waffle Sandwich Pops combine all of these elements into a delightful and healthy snack that's perfect for any time of day.
What makes this recipe special is the use of two key ingredients: MariGold Grass-Fed Collagen Peptides and Creamy Vanilla Whey Isolate Protein Powder. These high-quality powders provide essential amino acids and support healthy hair, skin, nails, joints, and muscles. Plus, they add a rich and creamy texture to the waffles that's hard to resist!
The rest of the recipe includes clean, healthy ingredients. The result is a mouthwatering and Instagram-worthy dessert that's low in sugar, high in protein, and bursting with flavor.
Whether you enjoy them as a refreshing summer treat or a satisfying post-workout snack, these Peach Neapolitan Waffle Sandwich Pops are sure to please your taste buds and your body.
Maria (@purely_healthy_living) is a nutritionist, foodie, and creator of Purely Healthy Living food and recipe blog where she shares her paleo, low carb, and vegan recipes that focus on real ingredients and nutrient dense foods. You can view the Maria's original recipe here.
Be sure to check out Maria's website and her Instagram for more creative and amazing recipes!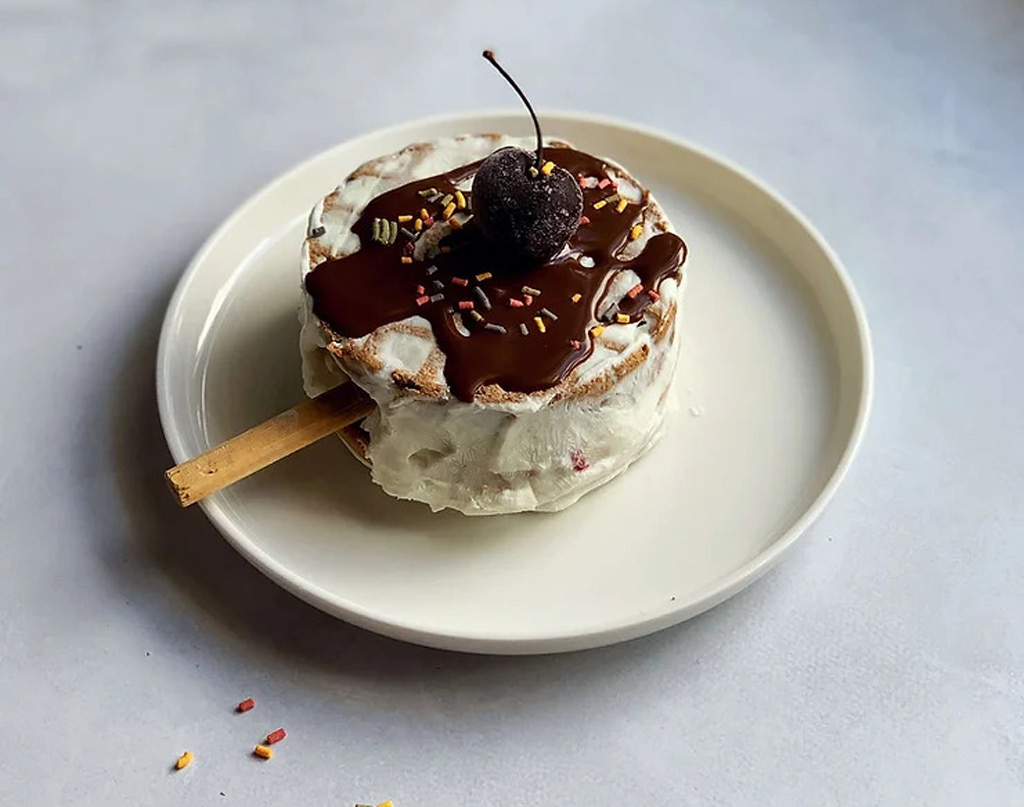 "These are seriously INSANE! I'm proud of this creation, seriously!
These are Gluten Free & Low Carb and GOOD!" 
– Maria Fernanda López (Purely Healthy Living)
1/4 cup of almond flour
4 eggs
1/2 tsp of cinnamon
1 tsp of vanilla Extract
1 cup of greek yogurt
1/2 cup of frozen peaches
2 tbsp of monk fruit
4 tbsp of Almond Butter
1 cup of greek yogurt
2 tbsp of monk fruit
Preheat the your waffle maker. Mix the ingredients for the waffles.
Pour about 1/4 cup of the batter into the waffle maker and cook for 4-5 minutes. Make three waffles total and let them cool down.
In a little bowl mix the greek yogurt, with a touch of monk fruit.
Top two of the waffles with the greek yogurt filling mix, add the peaches, add the stick to create the popsicle. Stick the two waffles together with the stick between them. Freeze for a couple of hours.
Mix the ingredients for the coating and once the waffles are hard enough, cover them with the coating mix of greek yogurt and freeze again. Add your toppings and enjoy!
MariGold ingredients used in this recipe:
Our MariGold Creamy Vanilla Whey Protein Isolate has everything you want in a protein drink, and none of the things you don't! It's derived from sweet Irish milk given from Truly Grass-Fed™ cows who spend 95% of their time roaming freely and feasting upon the delicious green grasses of the breathtaking Irish countryside.
This means our protein powder is 100% pure, clean, premium quality protein and only contains the good stuff your body wants and needs.
MariGold's Type I & III Bovine Collagen rejuvenates your body from within. Our Collagen Peptides support strong hair & nails and restores moisture & smoothness to your skin. It also restores ease of movement by replenishing joints and connective tissue, including cartilage and tendons. Even improves gut & immune function.* 
Our collagen peptides have a clean, neutral flavor and dissolve instantly when stirred into hot or cold beverages. Sourced from grass-fed, pasture-raised cattle in Brazil, it is completely free of dairy, gluten, soy, GMO's and hormones.