PROTEIN-PACKED CHURRO CAKE BITES
(High Protein / Low-Carb / Keto-Friendly)
These delectable Protein-Packed Churro Cake Bites are the perfect delicious and healthy treat to celebrate the upcoming Cinco de Mayo holiday!
With a crispy exterior coated in a sweet and spicy cinnamon sugar blend and a moist and fluffy interior bursting with vanilla and buttery goodness, these Churro Cake Bites are sure to hit the sweet spot (low-carb and keto-friendly, of course).
What's even better, is that they are high in protein, using MariGold Creamy Vanilla Whey Isolate Protein Powder. You can enjoy this sweet treat while benefiting from the nutrients to build & maintain muscle and support a robust immune system.
And best of all, they're super easy to make – just mix the dry ingredients, mix the wet ingredients, combine everything, and bake!
This recipe is by Deedee (@eatswithdeedee). Deedee loves baking and creating keto & low-carb recipes. She shares her incredible creations on her Instagram. Be sure follow her (@eatswithdeedee) for more creative and amazing recipes!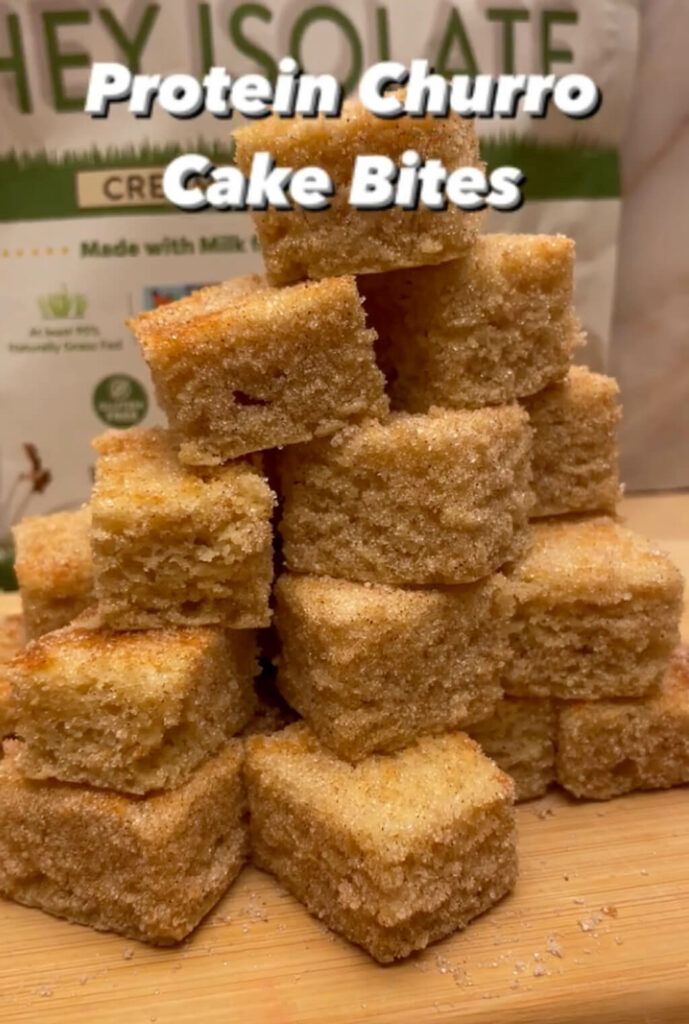 "Okay these are so fun and super simple to make! They are such yummy little bites coated in cinnamon sugar, perfect for sharing." 
– Deedee (@eatswithdeedee )
3/4 C Almond flour
1/3 C Granulated sweetener (I used @rxsugar)
1/4 C Butter, softened
1/4 C Plain nonfat Greek yogurt
1/2 C Unsweetened almond milk
2 Eggs
1 TSP Baking powder
1 TSP Vanilla extract
1 TSP Cinnamon
Sugar-free Chocolate for drizzling (optional – I used @choczero)
Combine all dry ingredients and set aside.
Mix together wet ingredients until combined, then add dry ingredients and mix until combined.
Bake in a parchment lined 9×9 cake pan at 350 for 20-25 minutes.
Combine 1/2 C granulated sweetener and 2 TSP cinnamon in a bowl. Once cake is cooled, cut into bite size squares. Roll squares in the boll of cinnamon sugar mixture, a few at a time, until coated.
OPTIONAL: I drizzled mine with @choczero Chocolate hazelnut spread but they would be delicious with a caramel or chocolate sauce too.
MariGold ingredients used in this recipe:
MariGold Whey Isolate is derived from sweet Irish milk given from Truly Grass-Fed™ cows who spend 95% of their time roaming freely and feasting upon the delicious green grasses of the breathtaking Irish countryside.
MariGold Creamy Vanilla Whey Protein Isolate has everything you want in a protein drink, and none of the things you don't!