Pumpkin Protein Cake
(Keto / Low-Carb)
These delicious pumpkin cake squares will satisfy every pumpkin craving for the fall season! 
Plus, they will provide you with protein, fiber, and lots of vitamins and minerals including vitamin A, vitamin C, calcium, potassium and more.
This recipe for Pumpkin Protein Cake by Lori (@lori.monigold) can even be eaten for breakfast. That's right, you can have CAKE FOR BREAKFAST and actually feel good about it! 
They are the perfect snack option for before or after your workout because they have a healthy protein boost with our MariGold Whey Isolate Protein Powder for fueling your performance, building your muscles, and a speedier recovery afterwards.
Lori (@lori.monigold) is known for creating healthy, low-carb recipes that always deliver on flavor! Be sure to check out Lori's website and her Instagram for more creative and amazing recipes!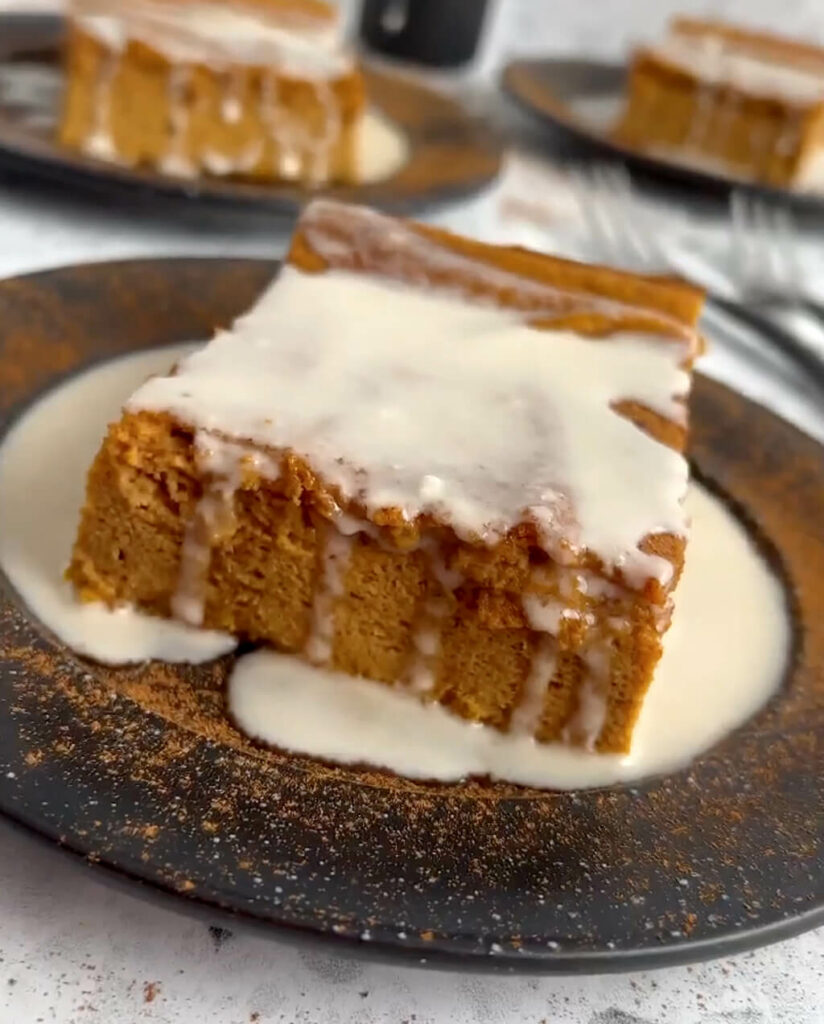 "This Pumpkin Protein Cake comes together right in your blender! The texture of these bars is as if pumpkin cake and pumpkin pie had a baby and it's so good y'all!"
– Lori (@lori.monigold)
1tbsp melted coconut oil
1/2 scoop Salted Carmel MCT oil powder (I used H.V.M.N. brand)
Preheat oven to 350*
Place all cake ingredients in the blender and blend until smooth and all well incorporated. You made need to stop and scrape down the sides once.
Pour batter into well-greased 9×13 baking dish and bake for 35-40 minutes.
Let cool— refrigerate at least 4 hours and then cut into 8 pieces.
I make glaze fresh each morning per bar. Melt the oil in microwave for 15-20 seconds. Whisk in mct powder until smooth and pour over bars. If you eat you bars cold like me the glaze with harden like a donut glaze.
192 calories
28g protein
6g fat without glaze
17.5g fat with glaze
7g net carbs
MariGold ingredients used in this recipe:
MariGold Whey Isolate is derived from sweet Irish milk given from Truly Grass-Fed™ cows who spend 95% of their time roaming freely and feasting upon the delicious green grasses of the breathtaking Irish countryside.
MariGold Unflavored and Creamy Vanilla Whey Protein Isolate have everything you want in a protein drink, and none of the things you don't!