CINNAMON STREUSEL PROTEIN MUFFINS
(Protein-Packed / Low Calorie / Low Carb)
These cinnamon-infused muffins with a hot cup of coffee will keep you warm on a cold winter morning!
Besides being super tasty, they are packed with protein using our MariGold Unflavored Whey Isolate Powder for muscle and immune system support. Plus, our protein powder contains non-GMO sunflower lecithin that is rich in phosphatidylcholine to help keep your brain healthy and your mind sharp!
Katie (@cookingkatielady) topped these delicious low-carb, low-calorie muffins with a cinnamon streusel that includes MariGold Keto Pecans for a sweet, buttery (organic ghee), crunchy bite that will delight your tastebuds!
You could also use our Creamy Vanilla, Rich Chocolate Malt, or even our Pumpkin Spice flavored whey protein to customize them with your favorite flavor.
Enjoy!
Katie is all about fitness, living a healthy lifestyle and healthy cooking and baking. Her Instagram is full of awesome recipes to try using her favorite products. Be sure follow her (@cookingkatielady) for more recipes and healthy lifestyle inspiration!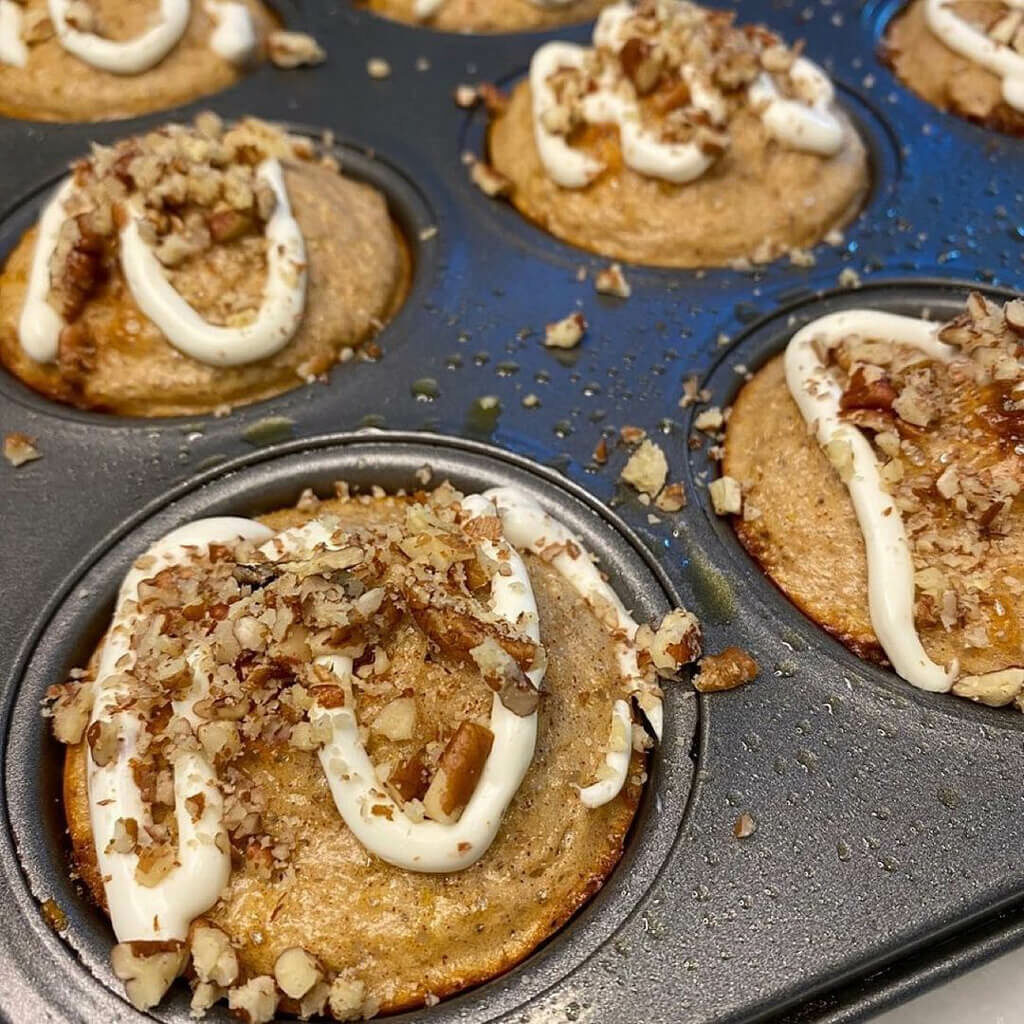 3/4 cup all-purpose flour
1 1/2 tsp baking powder
1/4 tsp salt
1 tsp cinnamon
1/2 cup liquid egg whites
1/2 cup plain nonfat Greek yogurt
1/3 cup unsweetened applesauce
1 tsp vanilla extract
2 1/2 tbsp sugar free syrup
1/4 cup brown sugar substitute (I used @swervesweetie)
Cinnamon, to taste
2 tbsp low-fat cream cheese, softened
2 tbsp chopped MariGold Keto Pecans
Preheat oven to 375°F
Combine all dry ingredients in a large mixing bowl.
Add in your wet ingredients and mix until just combined.
Divide muffin mixture into 12 muffin tins.
Mix the brown sugar substitute and cinnamon together in a small bowl. Top each muffin with the sugar mixture.
Bake the muffins for 12-15 minutes.
Top with a drizzle of low fat cream cheese and crushed pecans!
Macros (per muffin including topping) – Info provided by Katie (@cookingkatielady)
72 Calories
7g Carbs
1g Fat
7g Protein
MariGold ingredients used in this recipe:
MariGold Whey Isolate is derived from sweet Irish milk given from Truly Grass-Fed™ cows who spend 95% of their time roaming freely and feasting upon the delicious green grasses of the breathtaking Irish countryside.
MariGold Unflavored Whey Protein Isolate has everything you want in a protein drink, and none of the things you don't!
Crunchy Sweet Keto Snack (and only 1 NET CARB). We've created the perfect low-carb KETO snack. Now you can get all the crunchy-sweet taste you crave with NO ADDED SUGAR!
We start with one of the most "Keto friendly" nuts around – pecans.  Organic, Texas pecans at that! Then, we wrap them with a crispy, crunchy glaze. Except, unlike the typical glaze found in other crunchy nuts, ours isn't loaded with sugar! Instead we use healthy chicory root fiber for added fiber and a touch of prebiotic sweetness that won't affect your blood sugar. And,  we combine it with grass-fed ghee that's loaded with healthy omegas and Vit K2.